The Mottos are still versing The Insults around these parts. So, which one do you think is winning the A to Z Blog Challenge so far?
Today's Motto
Repsect
But Aretha said it best!!!
Today's Insult is
Runt
m. the stupid little fucker in the office...example: if that runt asks me to send one more poxy email on his behalf, I'm gonna tell him to get fucked. You get the picture, right?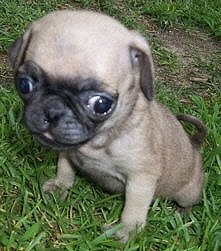 Typical example of "The Runt of the Litter"
I couldn't resist puting these babies in for Joshua this week - R2D2 shoes!
And of course it would not be Friday (yipeeeee Friday) without a Shoegasm from A Daft Scots Lass
Christian Louboutin Velvet Nude Corset Heels *sigh* (Did I mention my 40th birthday is approaching in June, Plonkers?)