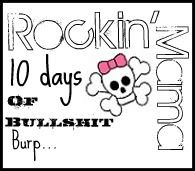 Its Day 8 of the 10 Days of Bullshit Challenge over at
★
Rockin' Mama★
todays's topic is :
Has a person of the same sex every made a pass at you and what was your reaction?
I get lezzies hitting on me ALL the time. I'm a fucking Lesbian Magnet.
Let me give you a few reasons why:
I wear Doc Martens, I hate make up and I don't wear a bra, which makes me especially irrisistible to the Lezzies. I listen to indigo Girls while driving my pick-up truck on the way to my job as a P.E. teacher. I alwyas keep a picture of my cat in my fanny pack. I am addicted to flannel and wear my keys hanging from the belt of my brown cordory jeans, while watching reruns of The L Word. I never shave my armpits or legs because I'm a vegetarian man hater .
Did you know that Lesbians can be converted with one internal application of a human penis?
Bullshit or not. You decide.