Judge is today's A to Z Blog Challenge motto.
There is a lot of that going around these days. Being judged for being too fat, too thin, being too outspoken, being too quiet - we are judged on a daily basis for everything we do that may be a little "different" or out of the ordinary. This kind of thing saddens me as we are too often categorized into boxes from an early age and it seems to stick. We need to learn to be more tolerant of indivdual personalities and keep an open mind until we really know the face behind the masks we wear. We all wear them.
Sometimes its not worth getting to know the face behind the mask but often it is worth the wait.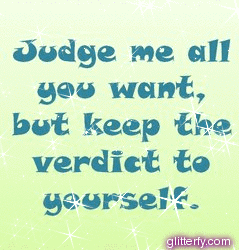 Jackshit is today's Insult
According to Urban Dictionary Jackshit means nothing, or something equivalent to nothing. Jack shit has the remarkable property that its absence and presence are identical. Typically used with or without a negative to describe a total lack of knowledge, value, or significance. Its use carries a strong negative connotation which can express frustration, disdain, ignorance, or other negative qualities. A fair to good all-round insult.
e.g Jings! Crivens Help Ma Boab, that Plonker doesn't know Jackshit!