Driving to work today, I spotted a familiar symbol stuck on the back of a car.
It was this one.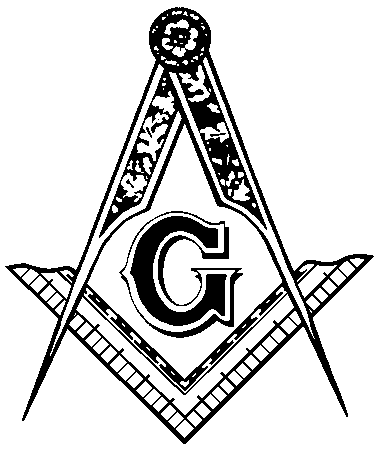 It took me a few seconds to recall exactly what it was and where I knew it from. For those of you who don't know what it means, its the Freemasons symbol.
The reason I recognise it, is because I grew up knowing my dad as a Mason. He went to lodge meetings every Thursday night with a couple of my uncles and mum sometimes had to make snacks for the meetings. I knew my uncle was the Grand Master of the 505 lodge, that their meetings went on until the wee hours of the morning and Dad came home reeking of whiskey.
What exactly were they doing?
I never understood what it was all about as there are loads of secrets associated with the Freemasons. Not even Mum knew what exactly they did. I was instantly suspicious - nosey little shite that I am. If there was a party going on, I wanted in on it, demmit! Mum used to explain it to me as dad doing charity work for the good of the community. I wasn't fucking buying that shite.
Being my usual pessimistic character, I was skeptical and thought it was some sort of magical or witchcraft cult. Chopping up stolen infants for muti or virgin sacrifices.... Because of all the secrets, I automatically thought that something sinister was going on. Secret handshakes, apron wearing blokes...it all sounds a bit creepy and odd.
I used to watch him get dressed every week, put on his tuxedo with his green and gold apron, put on his Masons ring and cuff links. I always thought he looked so handsome all smartly dressed up.
Then, as a teenager, I read the book The Brotherhood but it still left loads of unanswered questions. I detest not knowing and not understanding...I unfortunately had to come to terms with it.
As it is a secret society it difficult to gauge the affect they have in commerce and politics. To become a Freemason you need to be invited. You will not know when you meet a Freemason, unless you are one, or unless he is wearing a Freemason ring or some kind of Freemason's symbol. Freemason rings are often
titanium rings
or silver rings, they take the form of a signet ring.
The highest ranking free masons are the only people who really know what happens in a lodge, and what power the free mason magic holds - magic spells as we know them are far from the type of power the masons wield. Any kind of speculation is pointless, their secrets are well kept and have been for hundreds of years. The extent of their power is often thrown around, but real documentation, as with Illuminati, is sketchy.
Do you know anyone who is a Freemason. If so, have they revealed any secrets to you?