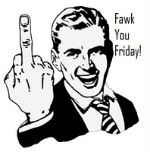 Fawk You Friday is hosted by Boobies and Christy. Go link up and vent your weekly frustrations at those who pissed on yer battery! Whine, rant, bitch and moan is the name of the game, Fuckers.
Fuck you to all the Movember participent Plonkers out there. They are taking over the cocksmokin' interwebz! Check the envy in my eye? Oh okay, I want an EarlStash! Perhaps I should start my own trend and have Pittember and grow out my oakster hair (for those of you that don't speak "DaftScot", oakster is an armpit). Good idea or utter pish? I need yer feedback.
Fuckity Fuck You to the tummy bug that invaded my 8 year old this week. MummyLove is... holding your daughters hair out of the way while she empties the slimey contents of her stomach into the Porcelain Pan every two hours. Rubbing her back while she wretches and and makes teradactile noises. I even threw up a little in my own mouth while watching her.
F-F-Fuck You to Midnight puppy duty. Having a 6 week old pup

in the house is like having a newborn all over again. The crying, the whining, the night feeds, the outside toilet duty, cleaning up doggie shite. At the end of it all you say OH Fuck it and put her in the bed just so you can get some sleep.
Fuck you to my
Cupboard Clutter
blog that's taken all my time this week and hence had no blog posts with substance.
Take my button and let me know if you link up your beautiful shoes so I can come visit. These are local heels this week.
Two Tone Blue and Black R400 from
BidorBuy