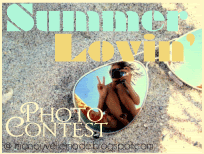 I was visiting over at
Ma Nouvelle Mode
and she is having a brilliant photo contest.
The photo you enter has to represent your summer.
I thought immediately of the time we all had a go on our Superman Slip 'n Slide set up in our garden complete with soapy suds so we could go faster. Weeeeee! We had so much fun. Loads of giggles and laughs and bruises! I love summer - being outdoors, being kissed by the sun and long days and short nights. Nothing puts a smile on my face like summer does.
I'm certain no photographer but I just love this shot I took of my youngest with my point and shoot Cannon.