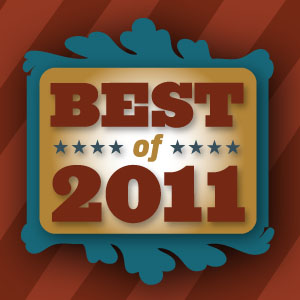 To celebrate the end of the year, I thought some highlighs of 2011 would be in order.
Lindsay Lohan gets her kit off for Playboy for $1 million and her secret diary revealed that she was dating Heath Ledger when he died.
The Royal Wedding of Prince William and Kate Middleton. Millions of people around the world watched the beautiful Kate become the Princess of Cambridge and exchange vows with Willy.
Amy Winehouse was found dead in her London home after dying from what was later announced as "too much alcohol".
There were plenty celebrity babies born in 2011:
Mariah and Nick Cannon welcomed twins in April - Moroccan and Monroe.

Natalie Portman and fiance welcomed Aleph in June.

Pink welcomed her daughter Willow Sage.
Beyoncé announced her pregnancy with Jay-Z and is due in 2012.
Giuliana Rancic was diagnosed with breast cancer.
Ame Deal was
locked in a box and left to die.
Will Smith and Jada plan to divorce after 15 years of marriage. Who knows what will happen with their celebrity superstar kids, Jaden and Willow?
Arkay
the Alcohol-free whisky flavoured drink was branded and promoted.
Kim Kardashian and Kris Humphries spent $10 million on getting hitched only to get divorced 72 days later.
Dumb Blonde Crystal Harris left the world famous playboy, Hugh Hefner, only days before they planned to get married!
Demi Moore announced that she's filing for divorce from Ashton Kutcher.
And that was a look at what happened in 2011 in Celebrityville. What was your Best of 2011?